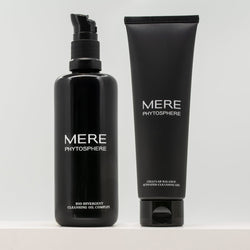 The ultimate double cleanse! We've paired up our cleansers for the most nourishing deep clean!
It's an easy choice to get both, the hardest part will be to decide which one gets 1st cleanse!
CLEANSING GEL
Our cleansing gel is unlike the others. Designed to hydrate, nourish and be non-disruptive to your pH levels, this powerful cleanser full of Marine Collagen & Sea Minerals will help to remove excess oils and pollution from the skin surface, leaving your skin feel soft and fresh!
CLEANSING OIL
Packed with 9 super oils, our cleansing oil has been designed to act as a magnet for impurities deep down in your pores. Perfect for melting away the day, and a powerful makeup remover, the oil can be used as either 1st or 2nd cleanse, depending on your skin type or overall routine.

While washing away impurities is important for healthy skin, so is making sure that you don't wash away all of the goodness that keeps your skin soft and fresh. This powerful blend of Australian native botanicals will keep your skin balanced, nourished and looking healthy and youthful.
Our cleansers are packed with.:
Macrobiotic Sea Minerals
Marine Collagen
Seabuckthorn Oil
Wattle Seed Oil
Kakadu Plum
Desert Lime
Quandong

This cleansing system has been designed to leave your skin looking even, glowing and fresh! Which order you use them in is entirely up to you!